Irish – The White Slaves
.
Hundreds Of Thousands Of Irish Slaves Were
Brought To The New World By England
June 22, 2020 / https://rense.com/general96/irish-slaves.php
From Peggy Lybecks wall…

The Irish slave trade began when 30,000 Irish prisoners were sold as slaves to the New World. The King James I Proclamation of 1625 required Irish political prisoners be sent overseas and sold to English settlers in the West Indies. By the mid 1600s, the Irish were the main slaves sold to Antigua and Montserrat. At that time, 70% of the total population of Montserrat were Irish slaves.

Ireland quickly became the biggest source of human livestock for English merchants. The majority of the early slaves to the New World were actually white.
From 1641 to 1652, over 500,000 Irish were killed by the English and another 300,000 were sold as slaves. Ireland's population fell from about 1,500,000 to 600,000 in one single decade.
Families were ripped apart as the British did not allow Irish dads to take their wives and children with them across the Atlantic. This led to a helpless population of homeless women and children. Britain's solution was to auction them off as well.
During the 1650s, over 100,000 Irish children between the ages of 10 and 14 were taken from their parents and sold as slaves in the West Indies, Virginia and New England. In this decade, 52,000 Irish (mostly women and children) were sold to Barbados and Virginia. Another 30,000 Irish men and women were also transported and sold to the highest bidder. In 1656, Cromwell ordered that 2000 Irish children be taken to Jamaica and sold as slaves to English settlers.
Many people today will avoid calling the Irish slaves what they truly were: Slaves. They'll come up with terms like "Indentured Servants" to describe what occurred to the Irish. However, in most cases from the 17th and 18th centuries, Irish slaves were nothing more than human cattle.
As an example, the African slave trade was just beginning during this same period. It is well recorded that African slaves, not tainted with the stain of the hated Catholic theology and more expensive to purchase, were often treated far better than their Irish counterparts.
African slaves were very expensive during the late 1600s (50 Sterling). Irish slaves came cheap (no more than 5 Sterling). If a planter whipped or branded or beat an Irish slave to death, it was never a crime. A death was a monetary setback, but far cheaper than killing a more expensive African. The English masters quickly began breeding the Irish women for both their own personal pleasure and for greater profit. Children of slaves were themselves slaves, which increased the size of the master's free workforce. Even if an Irish woman somehow obtained her freedom, her kids would remain slaves of her master. Thus, Irish moms, even with this new found emancipation, would seldom abandon their kids and would remain in servitude.
In time, the English thought of a better way to use these women (in many cases, girls as young as 12) to increase their market share: The settlers began to breed Irish women and girls with African men to produce slaves with a distinct complexion. These new "mulatto" slaves brought a higher price than Irish livestock and, likewise, enabled the settlers to save money rather than purchase new African slaves. This practice of interbreeding Irish females with African men went on for several decades and was so widespread that, in 1681, legislation was passed "forbidding the practice of mating Irish slave women to African slave men for the purpose of producing slaves for sale." In short, it was stopped only because it interfered with the profits of a large slave transport company.
England continued to ship tens of thousands of Irish slaves for more than a century. Records state that, after the 1798 Irish Rebellion, thousands of Irish slaves were sold to both America and Australia. There were horrible abuses of both African and Irish captives. One British ship even dumped 1,302 slaves into the Atlantic Ocean so that the crew would have plenty of food to eat.
There is little question that the Irish experienced the horrors of slavery as much (if not more in the 17th Century) as the Africans did. There is, also, very little question that those brown, tanned faces you witness in your travels to the West Indies are very likely a combination of African and Irish ancestry. In 1839, Britain finally decided on its own to end its participation in Satan's highway to hell and stopped transporting slaves. While their decision did not stop pirates from doing what they desired, the new law slowly concluded THIS chapter of nightmarish Irish misery.
But, if anyone, black or white, believes that slavery was only an African experience, then they've got it completely wrong.
Irish slavery is a subject worth remembering, not erasing from our memories.
.
Slave Tortures: The Mask, Scold's Bridle, or Brank
US Slave
Slave Mask Image Reference, NW0192. Source: Thomas Branagan, The Penitential Tyrant; or, slave trader reformed (New York, 1807), p. 271. (Copy in Library Company of Philadelphia; also Library of Congress
.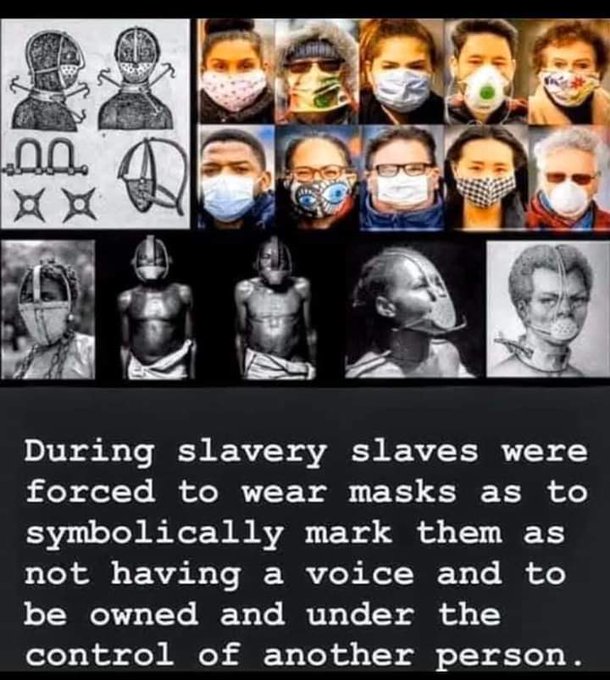 .
Plan
by No More Sleeping
…
The Druids now, while arms are heard no more,
Old mysteries and barbaroas rites restore:
A tribe who singular religion love,
And haunt the lonely coverts of the grove.
To these, and these of all mankind alone,
The gods are sure reveal'd, or sure unknown.
If dying mortals doom they sing aright,
No ghosts descend to dwell in dreadful night:
No parting souls to grisly Pluto go,
Nor seek the dreary silent shades below:
But forth they fly immortal in their kind,
And other bodies in new worlds they find.
Thus life for ever runs its endless race,
And like a line, death but divides the space,
A stop which can but for a moment last,
A point between the future and the past.
Thrice happy they beneath their northern skies,
Who that worst fear, the fear of death, despise;
Hence they no cares for this frail being feel,
But rush undaunted on the pointed steel;
Provoke approaching fate, and bravely scorn
To spare that life which must so soon return.
…
~from Marcus Annaeus Lucanus' [fallen angel, angel in human form] "Pharsalia" translated by Nicholas Rowe [fallen angel, angel in human form]

"…barbaroas rites…" angel children?
The Druids, the ancient Celts, the tribes of Danu, the Tuatha De Danann embraced only divine, sacred and peaceful practices and rites. It was you, fallen angels, and you, ET races, who twisted a beautiful devotion to our one, infinite Creator into sickening and perverted rituals. For thousands of years, it is the only thing you have done: invert good into evil.

---
"The tribes of Danu
were a divine people of Light and Goodness, Light against Darkness, Good against Evil, and represent the Celtic reverence for science, poetry, and artistic skill. It was they who really established and contributed the highest character traits and genes to the future generations of Celts and all their great heritage, mystic Irish lore and magic that is Ireland, we owe to our distant forebears the Tuatha De Danann.
Their spirit lives deep within all the Celtic people even though the Celts may not always be living upon their homeland of Ireland, the spirit of the Danu is ever within them.
The Celtic Irish are some of the most poetic, musical and happiest people on earth even though they have been the bearers of centuries of extreme hardships. When roused to battle there is no match on earth that can stand in their way.
The Romans found that out the hard way, and many nations through history have recruited the Celts to help them win their wars. Standish O'Grady, who wrote the book "Critical History of Ireland", stated:
"The underlying idea of all this class of legend, is that if men cannot master war, war will master them; and that those who aspired to the Ard-Rieship (High Kingship) of all Erin must have the war-gods on their side."
It was actually Macha, one of the wives of the Danann King Nuada who by breeding with the king intermingled his divine blood of the Tuatha De Danann into the human genes of the Celts. We have her also to thank for making it possible in establishing that trademark uniqueness of spirit, wit and intelligence that has become so characteristic among the Irish people.
Take a close look into the glint of the eyes of the Irish folk, and you will see a faint distant sparkle of the Tuatha De Danann. The magic of a people from a magic land, for when Irish eyes are smiling, they will steal your heart away!"
"…intermingled his divine blood of the Tuatha De Danann into the human genes of the Celts."
For thousands of years, fallen angels and ET races, you've known how Heaven would prevent you from destroying humanity and Earth. You've known that always there was a plan in place that would render you powerless while returning light to a dark planet.

---
…
The Tuatha
Long ago they sowed their seeds in the Celtic Lands…




But did they only sow seeds there?




Not just DNA… or monuments, or myths or lost truths




And magic… Perhaps they left clues everywhere




Scattered across the globe… key points and places




To consider… to leave for their descendants




Ages later to uncover, unravel… and change




The World…
Stonehenge… Pyramids… Runic Symbols, Celtic
Knots and Mendhi Lines…
Even Crop Circles may in fact be involved…
The Tuatha did possess a knack for natural magic…
Crop Circles and communicating with the Earth
Would be so easy for them… If only we knew…
Now they did in fact originate in the
Area now known as the United Kingdom…
But they didn't stay there.
As with all good things… it started out fine
With the Tuatha on Earth…
But over time, as their knowledge and wisdom
Helped change the Natives' lives, they soon took
The Tuatha's teachings for granted, abused what
They were given and became corrupt.
The Natives' primitive and wild nature wouldn't
Leave their hearts and they twisted the Tuatha's gifts
Into more wicked rituals and a darker form of magic.
This angered the Tuatha… who left. Some returned
To the Stars… while others traveled the world in
The hopes of finding another place to live and help
The Natives without it falling to corruption.
In different directions they went…
If one studied history and cultures well enough…
They would find the clues… pieces of the puzzle
That one day would make sense…
But maybe there's more to it, in what they left behind
Why… where…?
From a distant Far East Empire…
To the distant shores of a New World…
Artifacts… Runic Symbols…
Remnants of ancient Celtic visitors in New England,
A pit of treasures in Canada…
The evidence is there…
Perhaps they even went as far as visiting the Native Americans
Of the Southwest… of South America…
Inspiring the Anasazi… or even Designs of Lines
And Drawings in the Earth… who knows…
Cave paintings do tell stories… as do Crop Circles…
Ah, those Crop Circles again…
I did mention a long time ago how we should cross
That topic again…
The Wisdom of the Tuatha…
Combined with that of the knowledge of Lost Worlds
In a time before this age, before a flood
And Biblical Cataclysm…
If the Earth could communicate, and found
Someone who could understand and listen…
It might just talk with Crop Circles…
It's funny how they resemble patterns…
Mantras…
DNA… or perhaps ways to fix damaged DNA…
Chemistry formulas… Elements…
Or perhaps cures to fix the World…
With crystals, sound and light…
Not that I would know much, I mean
Surely it would take a special mind to do that,
An ancient mind, similar to that of the Tuatha…
Like an Ancient Master.
But then… the Tuatha could understand,
As would their descendants… maybe that was
Their intention all along.
To leave traces of knowledge behind
At key points… to be uncovered at a specific time…
To be put together… possibly on Ley lines.
Those lines again…
To fix… and Change the World.
So much to think about for sure…
Artifacts…
But what could those be?
Not that our governments or scientists
Would understand… not traditional history you know.
How honest those versions are…
Designs in rocks or tablets,
Or possibly the portal of a Church…
Crystals… Clay pipes or dishes…
Such ordinary things… For most people…
Except for someone special…
Of course governments and world powers have always
Held their secrets… like Alien contact for one…
Strange to keep Alien research a secret…
When that technology is hindered…
I mean why would Aliens willingly share
Technology to make us advanced, or even equals?
Dangle it on a tempting leash maybe…
Tainted for sure…
A hidden agenda… that control again…
To hide what they really want.
But they, Big Brother, had to know this,
I mean no one's that stupid, right?
Back to those hidden artifacts…
What could they do? Open a door, perhaps?
To a portal to another dimension where a
Secret world hides survivors of lost civilizations…
The Paschat… the Lion Men,
A doorway to where an army of Lion Men wait…
Or some ancient Star People of the Old
World wait, to be summoned to help fix the Planet…
Free this World… and others…
Summoned by the Hand of God…
5 Special Children…
A Prince, A Pauper… A Queen from the Stars…
So many possibilities.
…
~from Valiant's "Knock Knock, The Legacy of the Tuatha, Alien Artifacts, For the Right Time…" 12 February 2015 
The spread of divine blood, Stonehenge, Celtic knots, crop circles, ancient Masters, ley lines, artifacts, a church, alien contact, Big Brother…
Insane fallen angels and evil extraterrestrial races…
Immortal human souls, devoid of their memories, imprisoned within an illusion…
Falsified history…
Withheld technology…
British empire, the "New World Order"…
Secrets hidden within plain sight…
The "great awakening"…
Time…
Remember, everyone, Heaven and an entire universe are watching.
Good or evil.
It's your choice.
Choose.
.
.