Locusts
Kenya, January 22, 2020
Locusts swarm from ground vegetation at Lerata village, near Archers Post in Samburu County, Nairobi, Kenya, on Jan. 22. Photo: Tony Karumba/AFP via Getty Images
.
India, Pakistan should brace for 'twin invasion' of locusts from Horn of Africa & Iran, UN warns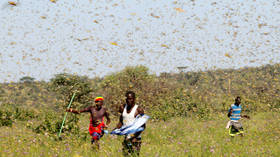 Giant swarms of locusts may descend on both sides of the India-Pakistani border around spring-summer this year, a UN locust monitor said, amid an unprecedented plague already affecting the black continent.
Gargantuan tribes of desert locusts have been terrifying the residents of Yemen and Saudi Arabia and laying waste to countries in the Horn of Africa.
.
.
Desert locusts have vanquished more empires than men have ever thought of building/ WhatDoesItMean.com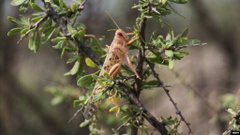 Iran
Somalia, Tansania, February 16, 2020
.
One week of untold terror as locusts pitch camp in Mwingi
Philip Muasya And Michael Chepkwony , 3rd Feb 2020 
Expenses should not be a reason to spare locusts
.
Invest in research to stem disasters and reduce loss from locust threat
.
.
.