Britain Exit
January 31, 2020
"On that day, long ago in 1559,… a dark, black-hearted fantasy was born within the reprehensible rituals performed at Queen Elizabeth I's coronation.
For over 450 years, many human souls on this world have placed faith in and trusted as truth the illegitimate, fanciful and patently demonic charade of British empire.
As Brexit becomes official and as Heaven and our sisters and brothers from the stars watch from above, today the charade ends.
In this divinely cathartic and deeply symbolic moment, humanity has finally been freed from a medieval, parasitic curse."
"…let the healing begin." (no more sleeping)
Freedom_Day.png
.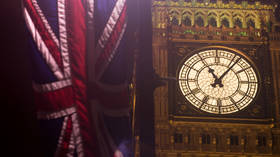 .
Big Ben rings the Brexit hour
.