Watch!
Watch! The New Lineage of Love on arrival!
Watch! Our tears to Joy now shall turn!
Watch! Dissolved is the Age of Betrayal!
Tune your trumpets! Our hearts in Joy burn!
Wake! The heavens are full of your brothers!
All long misery ages are gone!
Fill your hearts with the Hope of Revival!
We have won! Our Great Mission done!
.
Shooting star, northern lights, Murmansk, Russia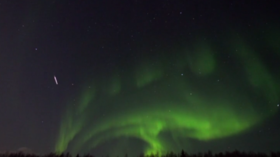 .
.