London, December 3-4, 2019
NATO Summit
An official photograph of
Her Majesty The Queen, The Prince of Wales, NATO Secretary General and
Heads of State and Government from countries who form the North Atlantic Treaty Organisation.
Buckingham Palace, London, UK, December 3, 2019
.
.
First Lady Melania Trump (49), US-Präsident Donald Trump (72), in Clarence House in London, United Kingdom, December 3, 2019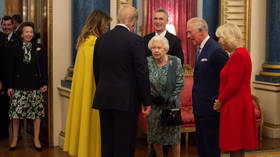 .
.
.
.