Vatican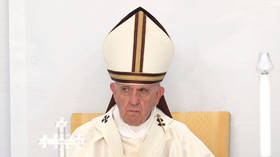 Pope Francis attends a mass as he visits the Albano Cathedral, in Albano outside Rome, Italy, September 21, 2019. © REUTERS/Yara Nardi
.
Great-Snake Auditorium, Cita del Vaticano, Roma, Italia
.
July 20, 2012
All politicians, bankers and other so-called shakers and movers, report and submit themselves to the will of the Vatican. The Pope administers his dominion from the golden throne of Papal Archbasilica of St. John Lateran. The White Pope is himself subservient to the highest ranking Jesuit Generale known as the Black Pope.
.
.
HERESY IN THE VATICAN? Catholics steal the Pope's 'pagan' fertility statues, dump them in river 
.
.
.
.
.
.