Agung Volcano, Indonesia, Erupts
Bali's Mount Agung in Karangasem District erupted again on Saturday, May 18, at 2:09 a.m. local time, spewing ash 2,000 meters into the air.
The volcanic ash column was thick and gray. The eruption had a maximum amplitude of 25 mm and lasted for two minutes and 57 seconds.
The Volcanology and Geological Disaster Mitigation Agency (PVMBG) has also called on people living around Mount Agung as well as climbers, visitors, and tourists to not conduct any activities in the demarcated danger zone, specifically in all areas within a four-kilometer radius from the volcano's peak.
People living and conducting activities along the river banks around the Bali volcano have been urged to be very careful about lahars, which can turn deadly.
.
A video of Jacqueline Zwahlen captured in Tulamben, Karangasem, Bali:
.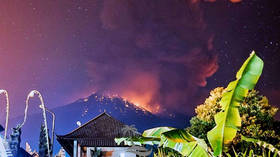 .
.